Certified in Adoption and Foster Care Counseling
---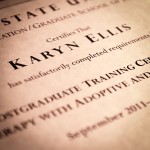 For about a year now I have been working on completing my Post Graduate Certification in Adoption and Foster Care Counseling from the Portland State University. My final project on The Effects of Trauma on the Brain was recently accepted. This year of studies has enhanced my understanding of how adoption and foster care affects individuals (not just kids!) and their families.
What you might not know about adopted and foster care children
Even if you or a loved one was adopted at birth there can still be intrapersonal conflict and issues surrounding their adoption.
Children who have been in foster care have a high likelihood of suffering from some form of abuse:

Emotional
Psychological
Physical
Neglect
Sexual

Intrapersonal conflict from adoption can affect the individual into late adulthood.
Adoption affects the whole family. Not only the immediate family but also those in the extended family and within the community.
Messages from the community or extended families can either enhance or hinder your adoption experience.
There are numerous factors that can play a considerable role in whether or not an adoption is successful and if the child is able to transition well through the stages of development.
These are just a few items that can have a huge impact on the successfulness of your adoption or your own intrapersonal struggles:
Core issues in development
Feelings of grief and loss
Attachment issues
Rejection
Guilt and shame
Identity
Intimacy
Mastery and control
Kinship adoption
Conflict with the family
Divided loyalties of the child
Boundaries
Trauma
Effects on the brain
Influences behavior
Interpreting the behavior
Managing the behaviors
Dissociation
Causes
Connecting in the present
Trauma
Creating safety in your home
Attachment
Reactive Attachment Disorder
Creating at attachment
Bonding as a family
If you have noticed any of these factors playing a role in your family, or you have concerns about an adoption, or want to help bring your family closer together, you may want to consider counseling. If you are an adult still struggling with your adoption or feelings or guilt and loss, it is normal and I would be honored by an opportunity to help you. As a counselor it is my goal is to support you, your family, and children.
---