Counseling Paperwork: What to Bring to your First Session
---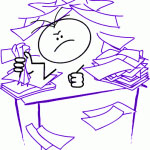 Planning for your child's counseling can sometimes be confusing, especially when it comes to the paperwork requirements. It gets even more complicated if your child is from a divorced family. Below is a list of the paperwork requirements and some explanation about why we need certain items before seeing your child for counseling:
Client registration form
Therapist Disclosure
Confidentiality and Policy Statement
Behavioral questionaries
Financial Policy
Parenting Plan (for divorce cases)
Release of information (if child is over 13)
Protection order (if applicable)
This paperwork should be brought in for the initial "intake" session where we meet with the parent(s) and discuss the situation. Counselors are held to a very high ethical standard and not being in accordance with State laws has serious consequences for our practice and reputation. These laws mean that certain paperwork needs to be filled out before we can see your child for counseling.
Parenting Plan
In divorce cases, we legally have to have the parenting plan before we meet with your child. If the parent plan states that you have joint custody and decision-making then we need to have the child's other parent sign off on all the paper work as well.
Release of Information
If your child is over the age of 13 we need a release of information to be filled out and signed by your child before we can talk to you or anyone else. Usually it is a counselor's preference to be able to speak with parents but legally your child (13 or older) has the right to keep any of his/her counseling information private. We take this very seriously, and if your child does not sign a release of information we will not answer any questions regarding their counseling sessions.
Thank you for keeping these items in mind when your planning for your child's counseling. We understand that the paperwork can be a nuisance, but it is in place for the protection of you and your child's safety and confidentiality of information.
---