Difficult Kids
---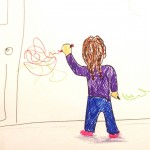 Every child has some kind of difficult phase. Maybe it is due to family conflict, changes, difficulty at school or with friends or maybe due to growth and development. Either way these behaviors can be frustrating for both you and your child. There are several behaviors or moods that can make your child more difficult than before. Today I am going to focus on: anti-social, angry, unmotivated and depressive behaviors in children and teens.
Anti Social
These kids are often found off in a corner doing their own thing. They don't get along with their peers or maybe even their teachers. These kids can be mean and they know how to push your buttons. They consistently isolate themselves on purpose, disobey, can be hostile and self-centered.
Causes
— Tough kids
— Family difficulties
— Trauma or abuse
— Fear
— Spoiled
— Anger
— Inconsistency with adults
Sometimes kids are just difficult. There is no way around it and there aren't solutions. Other times family conflict or inconsistency with adults in their lives can contribute to anti-social behaviors. If the child has experienced trauma, abuse or is fearful, that can also cause a child to push away from others and lash out. If this describes your child here are ways to help:
— Don't dictate–give requests or options
— Give minute warnings –"in 10 minutes we have to clean up now," or "you have five minutes to finish up before we do something else."
— Create rules. Remind them of the rules. They made need lots of reminders but keep your cool.
— Have reasons for the rules–you shouldn't have to but sometimes it is needed
— Don't take it personally – when you take it personally and loose it they do too
— Be consistent
— Positively reinforce
Angry
These kids can have their good days and their bad days but they are continually angry at themselves, at you, or at other kids.
Causes
— Low self-esteem
— Issues at home
— Modeled behavior
— Divorce Anger can be caused by so many things. Anger is usually a combination and overwhelming experience of other emotions. Anger is often the expression of anxiety, fear, low self-esteem as well as other emotions. Children can also be become angry due to divorice or separation of parents.
How to help
— Don't get angry back
— Deep breathing exercises
— Counting backwards
— Positive reinforcement – catch them being good before they do something bad
— Try to get them connected with what they are good at doing (refocus the energy)
— Behavior chart For more, read my post on Angry Children.
Unmotivated
These kids won't complete anything. It doesn't matter what kind of behavioral chart you have them on or special tasks you try to motivate them with. Nothing works.
Causes
— Family conflict
— Parents not engaged with the child and homework
— Lack of discipline
— Expectations too high or low
— Fear of criticism
— Low self-esteem
— Unable to problem-solve
Children are rarely unmotivated for no reason at all. There is something else going on. It isn't fun for children to be unmotivated, for parent's to get upset with them for poor grades or not being able to finish their work. They also don't like disappointing their teachers. One of the main solutions to helping a child through their lack of motivation is finding out why. Ways to help:
— Accept them for who they are and where they are at
— Encourage them, don't nag
— Help them set realistic goals
— Model problem-solving
— Give positive feedback for achievement
— Create a reward system at home. Initiate feedback cards (color coded or Likert Scale works well for feedback).
— Motivation at home (complete X amount = snack time, TV show, playing outside)
— Create a learning contract with goals/objectives, list your child's strengths and weaknesses and sign it.
Depressed
These kids are always solemn. They may smile and might have a good day here and there but you just know that deep down they are struggling. You can't get them out of their shell and they're hard to encourage.
Causes
— Low self-esteem
— Criticism at home
— Family conflict or hardships
— Issues at school or peers
— Trauma or abuse
— Chemical imbalance
It is hard to watch your child struggle with depression and it can be a long uphill battle. Every parent wants to see their child healthy and successful and depression takes a toll on every aspect of life. Lack of motivation, isolation from friends and family, and fatigue are common with depression and it can affect children of all ages. There is no age limit to depression. Beware that depression lasting longer than two weeks is a sign that they need help, and the longer depression goes without support the harder it is to overcome.
How to help
— Give them something to look forward to
— Get them excited about something
— Positive feedback
— Try to get them more involved in group activities or sports
— Find ways for them to self express. Art, writing, pottery, etc
— Create affirmation cards. Work together to create a list of all their positive qualities on index cards and review them on a daily basis.
Keep in mind that being angry, depressed, unmotivated and even anti-social isn't easy for your child either. At times it is more frustrating and hurtful for them than it is for you. If you feel like you child or teen is struggling or you need parenting support, look into counseling. It can help.
---