Hard to Handle — A Class for Stressed out Parents
---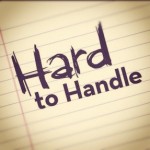 I have been writing a lot about difficult kids, bullies and giving tips on what to try at home. I will be offering a new discussion group starting mid October on Wednesday nights.
This class will look at foster care and adoption kids, difficult children, behavioral patterns, parenting resources and advice.
Topics will include:
Brain Functioning and Trauma
Parts of the brain their function
"Fight or flight" response

Behavioral issues Abuse

Trauma Abuse

Behaviors
Sexual Abuse
Sex and Development

Healthy Sexuality Attachment styles

Secure

Ambivalent
Avoidant
Disorganized
Attachment Trauma

Behavioral Issues Fetal Alcohol Spectrum Disorder (FASD)

Prenatal Drug Exposure

Fetal Alcohol Spectrum Disorder
Outcomes

Behavior logging Difficulties with the Disorder

Primary Characteristics

Secondary Characteristics Your Child and Development

Erick Erickson

Stages of Development

When Children get "Stuck" Parenting

Parent attachment

Behavioral charting
Parent coaching
Triggers
Learning Objectives
Along with learning about how to work with hard to handle kids and common behavioral problems such as anger, tantrums, sibling rivalry, and discipline issues, learning objective include:
Increasing secure attachments

Understanding basic brain structures involved with:

Memory
Cognitive Development
Sensing and perceiving
Aggression
Executive Functioning
Behaviors associated with damage to those areas

Understanding of Abuse, trauma and dissociation

Behaviors associated with trauma
Creating a safe and comforting environment at home
Attachment styles and attachment trauma

Basic understanding of FASD and associated challenges

Introduction to Erick Erickson and stages of development
How to work with your child and their behavior issues
Evaluating your own parenting and attachment style
Learn how to use behavior/emotion tracking
Learn how trauma and poor attachments can cause behavioral issues
If you have found any of my blogs to be helpful or you feel like you need a group of other parents to discuss trails with or if you just want a little more support this class is for you!
---