Helpful Hints for School Year Transitions
---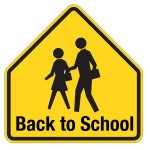 School year transitions can be hard both for you and your child. Children can become anxious and even fearful about the upcoming changes that come with a new school year.
Some of the usual concerns include:
Who is in the class?
Are the bullies going to be nice this year?
Am I still going to be terrible at math?
What will my teacher be like?
What should I wear? There can be sleep difficulties, increase edginess, mood swings and, depending on the age of your child, separation anxiety. It is also important to keep in mind that children who are already sensitive, have difficulties in school or have learning disorders may have a particularly difficult time with the transition.
To help with the back-to-school transition:
Give your child at least one week to get used to their new sleeping schedule before school starts.
Let them know their routine –maybe even write it on a note card or post it on the back of their door.
As soon as possible start talking to your child about their new teacher and who he/she is
If your child has a difficulties with a particular child in their class and this child is going to be in their class again let the teacher know.
Talk to your child about bullying and the importance of talking to an adult about bullying in school.
Peer pressure starts early so communicate that it is ok for them to be themselves.
Get your child used to doing homework again (assign small math assignments or books to read)
Stay positive – "I know that you are going to have an awesome year."
Review last year – what were some things your child can work on this year and what were some things that they did really well on last year?
The Transition
Most teachers know it can take awhile for students to settle in and be comfortable. Keep in mind it takes approximately three weeks (give or take) for a child to create or break a habit, so give them time and be patient. If conflict does come up in the class room or if your child brings you "what if" situations, help them problem-solve. If their school stress or anxiety is more than usual talk to their teacher. If you notice anything out of the ordinary with your child after they come home from school and there is no reported reason for it, talk to someone at the school and look into counseling.
School is difficult between peer conflict, social groups, possible development of anxiety or depression, or maybe there was a discovery of a learning disorder, there are resources to help your child succeed and have a great school year!
---